FLEXSHOCK - BUILT-IN IMPACT PROTECTION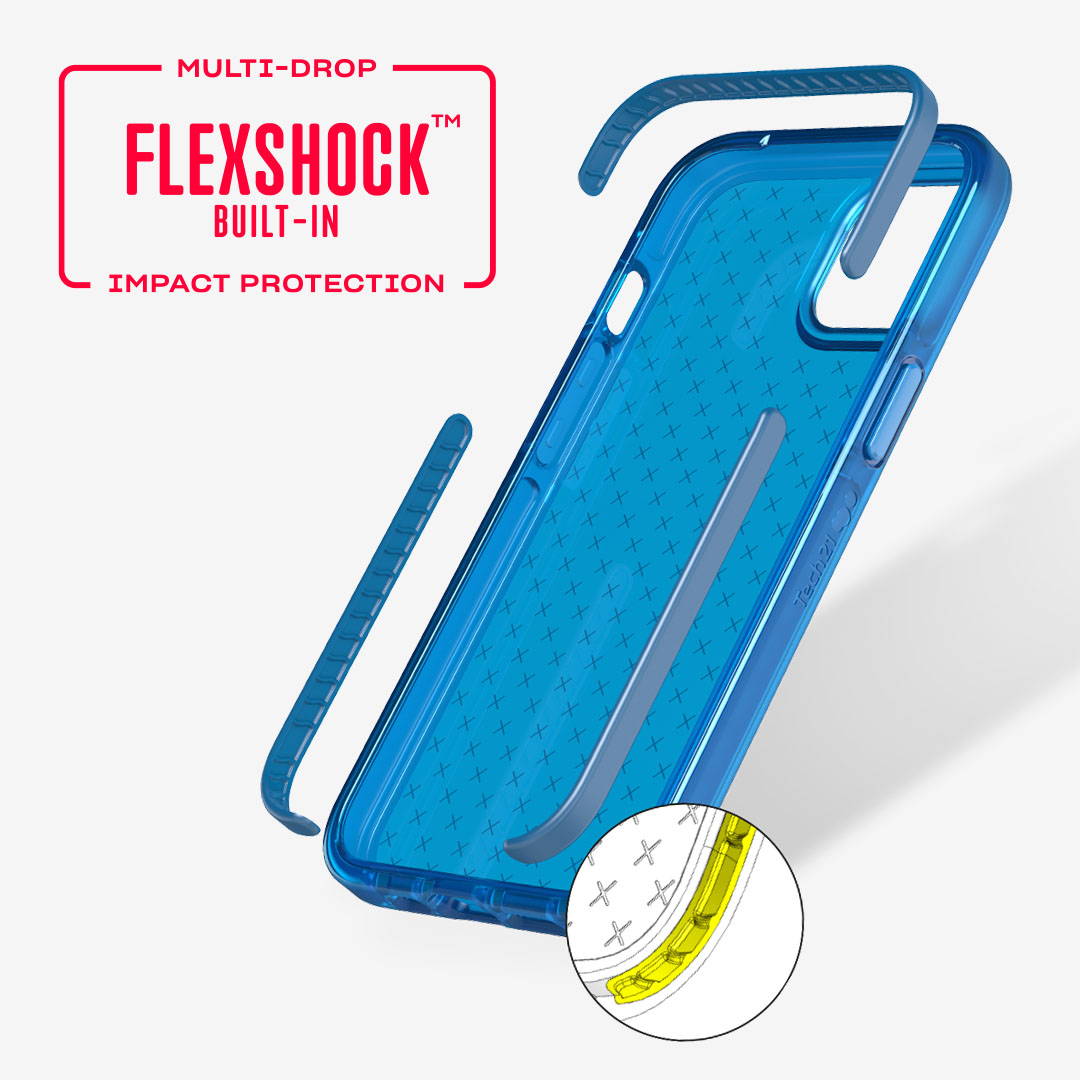 DISCOVER THE POWER OF FLEXSHOCK – TECH21'S ADVANCED IMPACT MATERIAL
We know how important your phone is to you, so it's important to keep it safe from life's unexpected mishaps, however they happen. Our in-house design team are always looking for ways to do things better. Materials that were once state-of-the-art are now no longer fit for purpose. This constant evolution has resulted in FlexShock™, the world's most advanced impact protection material – exclusive to Tech21.
FlexShock™ is ultra efficient, absorbing and dissipating impact force and stopping that force from passing into your device, while at the same time ensuring the device continues to work as intended. Less efficient materials let the force pass straight through to your phone giving minimal protection, increasing the likelihood of damage, and can even negatively affect phone performance. FlexShock™ is strong and flexible so you don't need much of it to provide amazing protection. Tech21 cases can therefore be up to 30% thinner and 60% lighter than others, but still give the best possible protection - absorbing up to 90% impact energy on every drop.
FlexShock™ can also be made in any colour, ensuring Tech21 cases can be colour matched to any device, or designed to suit the latest trends.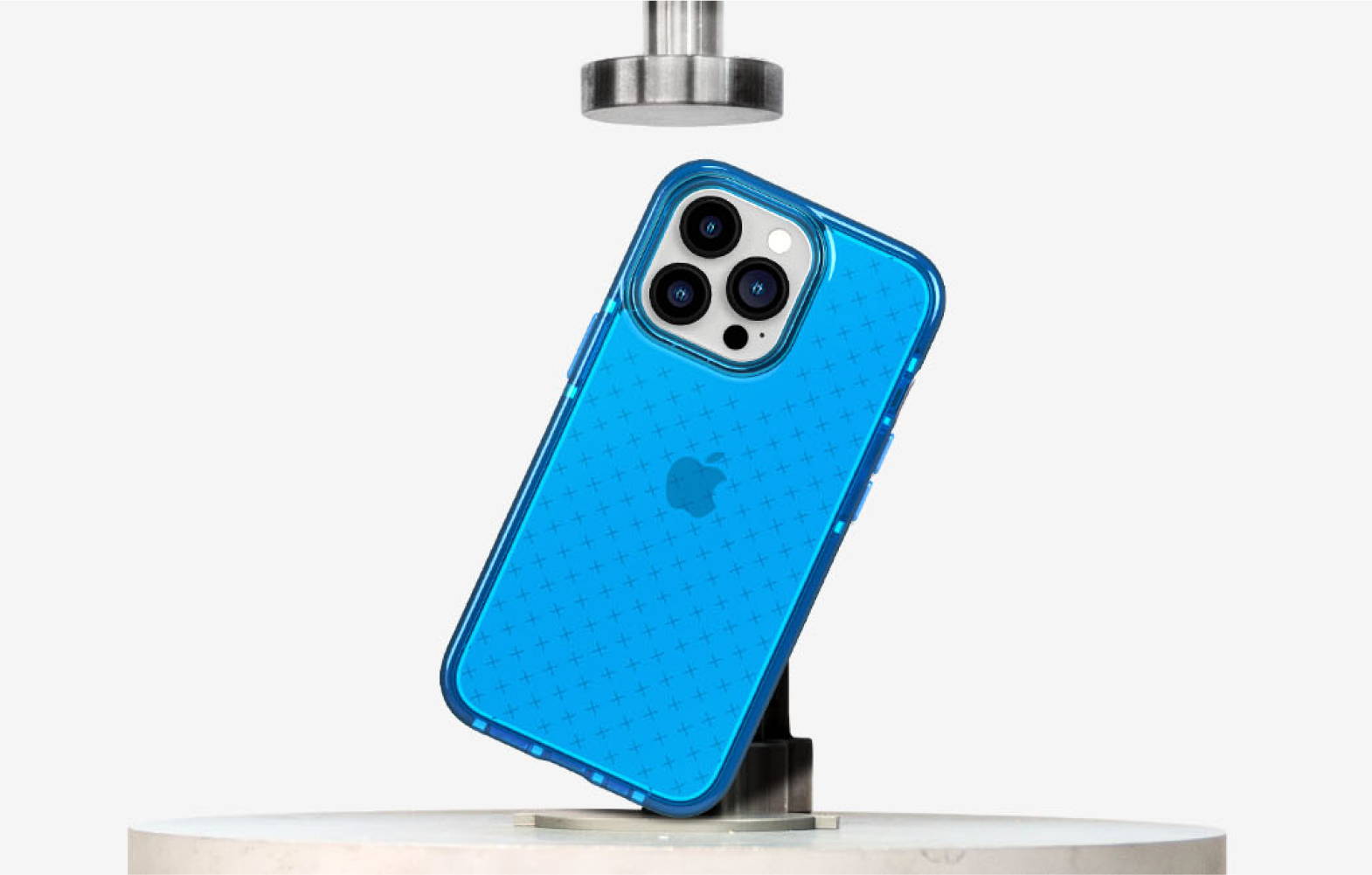 All Tech21 products offer advanced impact protection that's rigorously tested to work harmoniously with your device, meaning unhindered signal quality and full access to all ports and functions. Like the technology they're designed to protect, our products use the latest science, ingenious design and unbeatable user-friendliness to make this possible.
As well as creating what we believe to be the world's best impact materials, we are the first business ever to form a partnership with the NPL (National Physical Laboratory) in London. To improve, we need to know how we're performing. So, we've invested in a new R&D facility at the NPL. NPL is the UK's National Measurement Institute, a globally recognized leader in its field. It's also the UK's largest applied physics organization.
Working in partnership, we've built cutting-edge equipment, a unique testing methodology, and formed a team of highly skilled scientists. This means more advanced testing, more accurate results and an unbeatable range of drop protection products that you can trust. NPL is home to over 500 full-time scientists and technicians, providing an incredibly powerful mix of skills and experience to draw on.
This means Tech21 can innovate faster and create products that are difficult to beat. Through this partnership with the NPL we were able to innovate and create unique products for every new iPhone launch since iPhone 7. It's this thinking and innovation that set us aside from our competitors and makes us stand out in the impact protection market.
EVO CHECK – ABSORBS 90% MORE IMPACT ENERGY THAN BESTSELLING COMPETITORS
Evo Check is our signature case and remains near the top of our bestselling list, year after year. We're constantly adapting popular this case to ensure it protects every aspect of your phone in style. Featuring impact absorption around all the key pressure points, our Evo Check cases for iPhone 13 protect from multiple drops up to 16ft - an increase of 4ft from our iPhone 12 cases. This is thanks to the highly advanced FlexShock™ materials that dissipate impact force, stopping it from passing into your phone.
EVO MAX – 6.3x MORE EFFECTIVE IMPACT PROTECTION THAN OTTERBOX DEFENDER

Our brand new Evo Max iPhone 13 case is designed to offer maximum protection for those of us who spend our time in harsh, unforgiving environments. Exclusively for iPhone 13, it's slimmer and lighter than equivalent competitors and is the only rugged case to have a sliding camera cover. You can also buy it with a holster that acts as a kickstand. Overall, it's the most protective rugged case on the market with 20ft - the height of a two-storey house - multi-drop protection.
EVO TACTILE – 16ft MULTI-DROP PROTECTION AND EXTRA GRIP
Our new Evo Tactile iPhone 13 case is made for the modern world. A textured case with a rear-grip finger pattern to help you avoid needless drops, FlexShock™ will keep your device safe even when accidents do happen. Its wireless-friendly design also ensures you can make full use of your phone, wherever you are. The flexible, impact-absorbing nature of FlexShock makes this stylish case a must for anyone who cares about their tech.